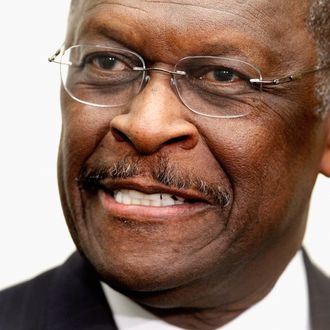 Is he gritting his teeth to keep that thing from falling off?
Photo: Chip Somodevilla/2011 Getty Images
It's been a big day for the American Mustache Institute: not only have they put forth their own tax proposal, but they've rescinded their previous endorsement of mustache-wearer Herman Cain. Or, we should say, alleged mustache-wearer Herman Cain:
Then allegations came to light that Cain's mustache is not real, but actually a theater-quality, upper lip garment, and not the labia sebucula (Latin for "lip sweater") he claims to have worn since his early twenties.

"Even after our endorsement of Cain on CNN, we continued to do our due diligence relative to his mouth shading device," added Dr. Froman. "The evidence continues to mount that his mustache is a fraud."
Herman Cain, meanwhile, invites all the ladies out there to investigate his labia sebucula for themselves.