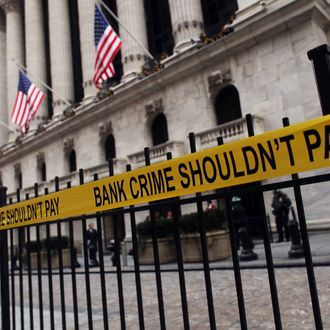 Photo: Spencer Platt/2010 Getty Images
Just last Thursday, Occupy Wall Street jammed Foley Square for one last enormous rally to cap a day of citywide protests. This morning, it felt like that event happened a million years ago. There were beaming newlyweds walking hand in hand from the City Clerk's Office through Thomas Paine Park, past paralegals staggering with boxes of documents. The chants, the candles, the righteous anger — there was no visible sign of last week's tumult. Well, unless you count the dozen middle-class New Yorkers shivering on the granite steps, small homeowners in differing stages of the same nightmare: battling deep-pocketed banks and predatory mortgage middlemen to stave off foreclosure.
Emmanuel Ajiboye, a clothing designer with a 6-year-old daughter, two jobs, and a one-family house in the Soundview section of the Bronx, saw his interest rate suddenly jump from 7.9 percent to 11 percent. Then he discovered a broker had saddled him with a second mortgage. "I paid the down payment in full, I'm not looking for a free house, but I'm desperate," Ajiboye says. The ordeal has boosted his blood pressure, too: He's taking four medications. Rhoda Carter, a data processor from Jamaica, Queens, was victimized by a booby-trapped refinancing in 2008. She kept up her payments even after losing her job, liquidating a retirement account, borrowing against a life insurance policy, and selling a collection of vintage coins. Earlier this year her luck seemed to change: Carter found a new job and a judge dismissed the foreclosure action. Yet the loan servicer refuses to discuss a mortgage modification. "Since August, they won't even talk to me," Carter says. "It seems like the only thing they want is to get me out. My world has been turned upside down."
And those are the happier stories. More than 250,000 homeowners across New York face foreclosure; in the city, 1,800 homeowners have received new foreclosure notices since September. Ajiboye and Carter have held on to their homes — so far — thanks to free legal services. This morning they came to Foley Square for a press conference because the foreclosure-prevention programs are themselves facing a budget crisis: State funding ends as of December 31. At $25 million per year, the counseling and legal services aid sounds expensive — but so far it has preserved $3.4 billion in property values, a major boost to the state's tax base. Elected officials including state senators Jeffrey Klein, Adriano Espaillat, and Eric Adams are trying to find a way to restore the money, but the state is staring at another $3 billion deficit. As always, the key player will be Governor Andrew Cuomo, whose choices seem to be getting harder instead of easier, and whose old backyard, Queens, is the center of New York's foreclosure epidemic. Occupy Wall Street may be gone for the moment, but these are the issues that all the shouting was really about: whether our government is smart enough and fair enough to help those who've really paid the bill for the financial meltdown, instead of just propping up the people who caused it.