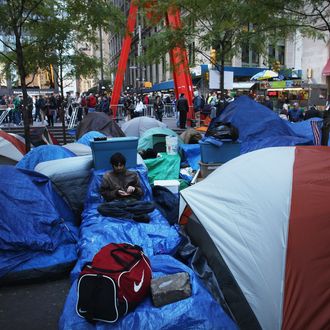 Zuccotti tent city
Photo: Spencer Platt/ Getty Images
Occupy Wall Street protesters are putting their money where their beliefs are: Demonstrators passed a motion over the weekend to spend $19,200 to buy and erect twenty large tents, despite tents being prohibited by Zuccotti Park rules, am New York reports. But protesters will be taking to the tents to brave the cold months nonetheless.
The order for large 20-by-20 and 16-by-16 tents have an eye toward safety, too: "We don't want anything bad or unsavory happening behind closed doors," protester spokesman Jeff Smith said. "A communal space is obviously safer," a reference to a number of sexual assaults that have reportedly taken place at the park.
Although the tents, individual or party-size, are a blatant violation of Brookfield Office Properties (the company that owns Zuccotti Park) rules, officials have not made significant efforts to remove the existing tents from the space. "It's a private park, so if they want to enforce their rules, they would have to talk to us about it," a police spokesman said, referring to Brookfield. "Not our rule. A question for the property owner," Mayor Bloomberg said in an e-mail. A spokeswoman for Brookfield declined to comment.