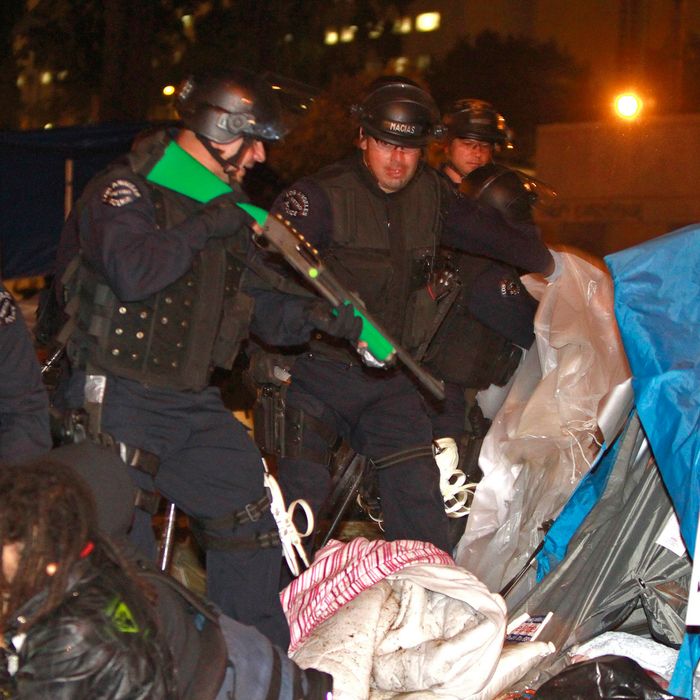 Los Angeles
Photo: Mark Boster-Pool/Getty Images
Police raided and cleared the Occupy Wall Street protest sites in both Los Angeles and Philadelphia last night, more than a day after their eviction deadlines had come and passed, resulting in more than 200 arrests in Los Angeles and around 50 in Philly. The two cities were among the very last high-profile holdouts after a series of recent crackdowns throughout the country — not to mention the impending cold weather — that have reduced the movement's physical presence.
The raids in Philadelphia began around 1:2o a.m. Protestors were evicted from their site, which the city says had to be cleared to make room for a planned $50 million renovation, then demonstrated in the streets in front of City Hall, where the bulk of the evening's arrests occurred. There was little violence in the eviction, which came after three warnings from the police (so most protestors had already cleared out).
It was a slightly different story in Los Angeles, but still a far cry from the conflict that marked similar evictions in cities like New York — though the military-style raid and restricted media access did look familiar.  As in Philly, following a series of warnings, and a jubilant, partylike pre-raid atmosphere, more than 1,000 officers were deployed to clear the site , which Mayor Antonio Villaraigosa ordered after citing health and public safety concerns. Police searched the cleared site for drugs and weapons, finding none. The raid began with cries of "police brutality," after officers tore down a tent and tackled a man in the first few minutes of the raid; officers also used cherrypickers and to get five protestors, whom they pelted with bean bags, down from the trees from which they were demonstrating/resisting arrest. (One lone tree-dweller was still resisting arrest as of 8 a.m.) One witness reported seeing twenty or so men, who appeared to be undercover cops dressed in Occupy T-shirts, "bumping fists" with uniformed police.
One Philly protestor told the AP that this wasn't the endgame for their movement: "Whether or not we have this space or work in the city is nowhere near done," she said. But these two evictions signal a renewed need for the broader movement to find another way, one less tethered to a physical presence, of moving forward.