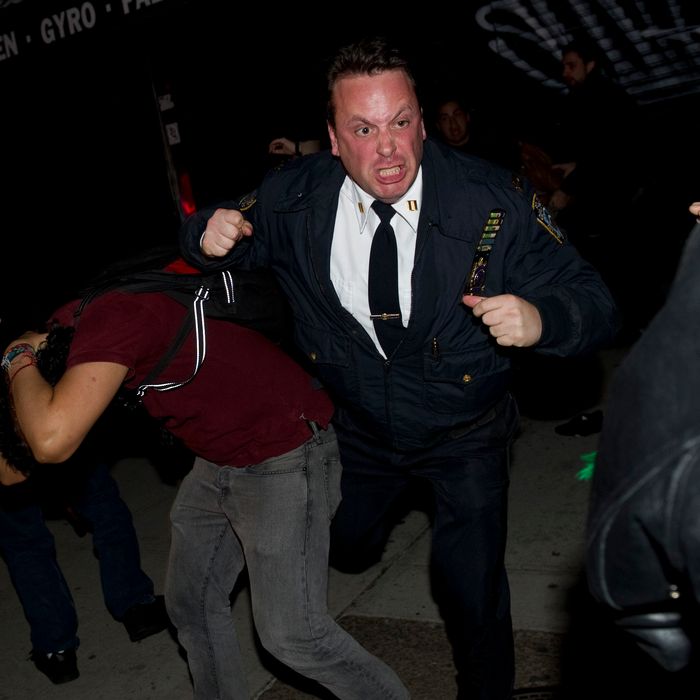 A New York City police officer scuffles with Occupy Wall Street protesters. AFP PHOTO/DON EMMERT
Photo: DON EMMERT/2011 AFP
Zuccotti Park is empty. In the early hours of Tuesday morning, riot police surrounded and invaded the downtown commune, tearing down Occupy Wall Street's tent city and ordering all protesters out. Cops said that protesters may be able to return when "work is complete" on cleaning the site, but without any of the tarps or other infrastructure that might have enabled them to stay through the winter. "Protesters have had two months to occupy the park with tents and sleeping bags," Mayor Bloomberg said in a statement. "Now they will have to occupy the space with the power of their arguments."
The eviction began around 1 a.m., when hundreds of police arrived at the park and told all protesters to get out or face arrest.
A video from the scene clearly showed the deployment of something similar to tear gas, along with riot control chains. According to Mother Jones reporter Josh Harkinson, protestors were pepper-sprayed, beaten, and loaded into ambulances. Members of the press, even those with credentials,were forced out of the park; some journalists tweeted about being hassled, dragged, and pushed. In the meantime, police scanner dispatches and photos from the scene depicted at least one police paddy wagon filled with arrested protesters. Chants of "We are the 99 percent" echoed across downtown as protesters locked arms to stop police from clearing out their possessions — tarps, bags, and tents — piles of which have been packed into dump trucks.
Jumaane D. Williams, representative of New York's 45th Council District, alleged that a fellow councilman, Ydanis Rodriguez, was arrested and bloodied by police. And a picture from the crackdown seems to show police deploying a van-mounted Long Range Acoustic Device (LRAD), which bombards painful soundwaves in order to disperse crowds. Twitter reports, including some from filmmaker Michael Moore, reported that police have closed off the airspace above Zuccotti Park. NBC News reported that the cops were preventing residents in nearby buildings from coming out to watch, and instructing doormen to "lock up for the night."
As of 2:50 a.m., according to the occupation's Twitter account, the "fallback location" had been moved to Foley Square, next to City Hall. By 3:50, a new general assembly had begun there, and by 5:00, the square had filled with almost 200 protestors, with union members slated to arrive at 7 a.m. 
The eviction came ahead of the occupation's threat to overload Wall Street and the subway system on Thursday. According to the New York Post, Mayor Bloomberg, Police Commissioner Ray Kelly, Fire Commissioner Sal Cassano, and other officials met in secret at City Hall to approve the plan to clear the park. According to police, the eviction will improve health conditions in the square, which have recently grown dire. In his statement, the mayor said he had become worried "that the occupation was coming to pose a health and fire safety hazard to the protesters and to the surrounding community. "
The eviction flyer that was handed out is reproduced below (courtesy of the Post) and says: "If you decide to return, you will not be permitted to bring tents, sleeping bags, tarps, and similar materials with you."
These rules would make it impossible for the occupation to return in full force. After a night of drama, the city's ultimate intentions aren't yet clear. 
What is clear is that, after two months of building a mini-city downtown, the Zuccotti Park occupation has been cleared out (very cleared out) — in a little under four hours. A dedicated group of protesters remained at the park's edges live-streaming the showdown, staring down the surrounding police. As of 4:20 a.m., for the first time in nearly two months, the formerly bustling Zuccotti Park was eerily empty.