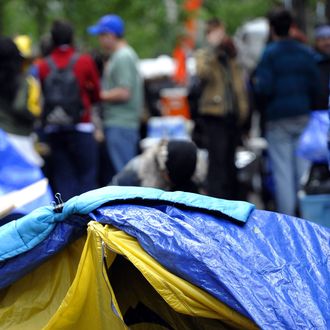 Occupy Paw Street? (TIMOTHY A. CLARY/AFP/Getty Images)
Photo: TIMOTHY A. CLARY/2011 AFP
New York Post reporter Canice Giove spent Thursday night in Zuccotti Park, and describes a squalid shanty-town overrun with chaos and crime. What, no chummy drum circles or trading of protest arrest stories over a nice oil drum fire and a bowl of vegan jambalaya? (Guess not, now that drumming is limited to two hours a day and fire hazards are prohibited by the NYFD.) Giove even suggests paranoia is creeping into the ranks of the occupiers, shaken by a series of much-publicized sexual assaults and rapes, including of two men. The transgender contingent is apparently planning their own police force and some Zuccotti squatters are passing around "tales of Rikers Island castoffs being dropped of to roam and ravage the site."
With winter approaching, seems revolution's ground zero has turned into something of a tent city, despite tents being against park rules, with everything from a Camp Anonymous, for members of the so-named hacker collective, a vampire fan tent (or might this just be a promotional stunt for Twilight: Breaking Dawn, Part 1), a pet-friendly "Occupy Paw Street" tent, and even a Camp France ("Vive la resistance!"). And with little headway on allocating the movement's healthy war chest — proposals to rent out inside space for meetings and such have gone nowhere — seems a lot of the OWS activity is moving to a McDonald's on Broadway about a half-block north of Zuccotti Park.
It's a place to meet, to get warm, to scarf down dollar-menu grub, and to use the bathroom that becomes increasingly vile as the night goes on.
As for the people Giove met (in the Anonymous camp), what a ramshackle bunch!

My bunkmates include an anarchist, a sexual-assault victim, two security-force members, a girl dressed like the devil and her kitten — the "Anarkitty."

The danger for the movement now is that only the hardiest and most fringe will be left occupying Zuccotti as the chill sets in, something Giove alludes to with descriptions such as the one above. While hardcore protesters may be glad to be rid of the "fair weather" folk, there's a good chance they were the ones who brought the youth and sex appeal that made them relatable to a wider swathe of America. If left with just anarchists, lifelong protesters, and the ideologically homeless, the movement may end up the other other 1 percent.