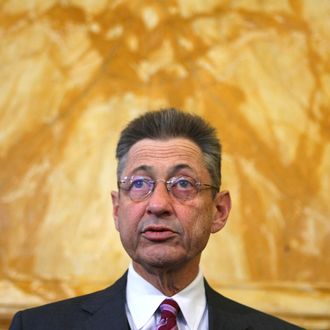 Sheldon Silver looking a lot better than he does currently.
Photo: Daniel Barry/2008 Getty Images
According to Capital New York, "Half of Assembly Speaker Sheldon Silver's face is bruised and purple, and there are stiches over his left eyebrow and a scab across his nose and the back of one of his hands." His spokesman says Silver hit a pothole and fell while riding his bicycle. "He was hit by a wooden plank while saving an orphan from a burning orphanage" would have been a lot cooler.