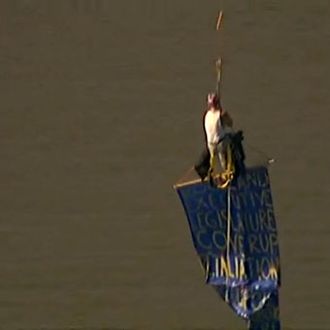 Just be careful.
Photo: ABC News
We now know more about yesterday's hero, Michael Davitt, who spent nearly four hours hanging from the Tappan Zee Bridge over the Hudson River protesting the loss of his job with a big banner before diving into the water and being apprehended by police. That Davitt was driven to those lengths is sad, but it's also the sort of wacky news story where, fortunately, the entertainment value outweighs the harm caused to himself or others with the stunt (traffic, mostly, in this case). Davitt has been charged with misdemeanor counts of trespassing, reckless endangerment, and resisting arrest, but he's been released without bail. Because he's okay, we can giggle a bit more at the details of the endeavor:
Tying a rope ladder to the vehicle's frame, he draped it over the bridge's outer railing and climbed down about 75 feet, or halfway between the river and the bridge span. A Thruway worker spotted his van and alerted authorities.
…
Davitt appeared occasionally to move his arms as he periodically swung back and forth. At some point, he removed several items of clothing and stripped down to his undershirt and shorts. He could be seen drinking from a Thermos.

The only verbal communication Davitt, who also came supplied with cigarettes, had with police came when he requested a tobacco pipe, which police denied.
Davitt, appropriately enough, lost his job as a substance-abuse counselor with the Rockland County Department of Mental Health in 2008, and has since picketed the local government and been seen at community meetings "mumbling and staring." A neighbor, though, called him "a cool guy … a normal type of guy" who's "into cars." So hopefully this cry for help is as far as he'll take the weirdness, and the tale can stay merely amusing.