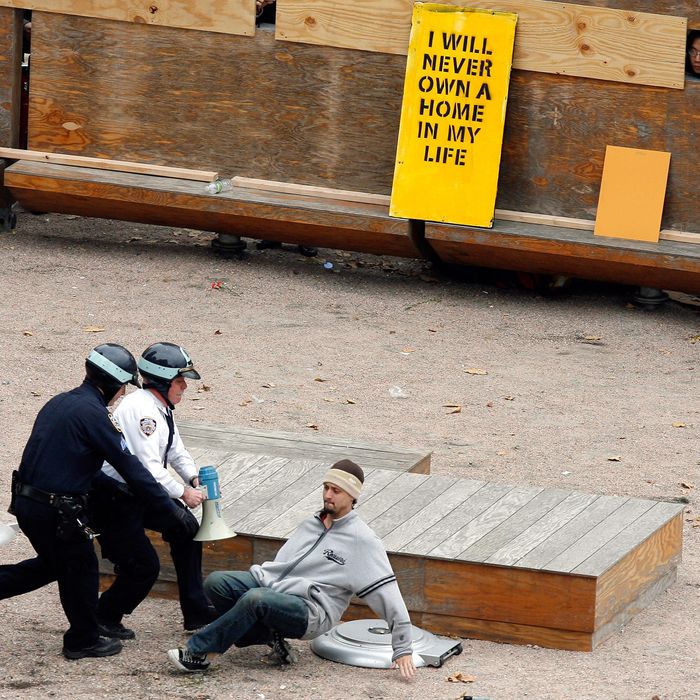 Photo: Preston Rescigno/2011 Getty Images
A group of Occupy Wall Street protesters surrounded the recently renovated space along the west side of Duarte Square, located just outside the New York offices, armed with new yellow signs and a tent. They were met by police guarding the exterior of the public space along Canal Street, Grand Street, and Sixth Avenue. Demonstrators were largely cleared from inside, but dozens sat atop the wooden fence as riot police set up along Canal and Grand with shields, helmets, and police vans at the ready. Arrests appear imminent.
Update: Our own Chris Smith reports that police moved in at 11:55 a.m. and arrested approximately eight people, one of whom was dragged out by the arms and legs. The park has been cleared of almost all people, and police are ripping down banners as protesters move to salvage a few. Dozens of demonstrators remain on the park's fence, and chants of "Shame!" fill the area.
Update 2: The New York Times puts the arrest total at about two dozen around the lot, including at least four journalists representing the Daily News, the Associated Press, and DNAInfo. The Times reports that the fenced-in area is owned by the Trinity Church, whose spokesperson said, "We did not invite any of those people in." Those people (who weren't arrested) reportedly decided to join the group back at Zuccotti Park, which remains closed to the public as of 1 p.m., despite court orders. A hearing on the eviction matter has been postponed this afternoon as the case is assigned to a new judge.