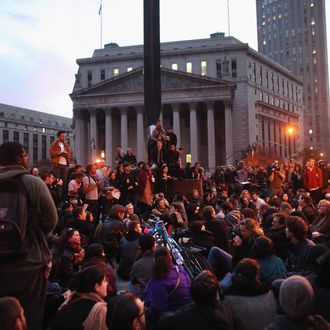 Protesters regroup at Foley Square.
Photo: Spencer Platt/Getty Images
In the hours since police raided the Occupy Wall Street encampment, protesters have been gathering at a new locale and attempting to organize, as the home base for OWS moving forward remains uncertain. About a ten-minute walk north of Zuccotti Park, Foley Square is located between Worth Street, Centre Street, and Lafayette Street, at the south end of Chinatown. As of early Tuesday morning, the park was serving as a new headquarters for the uprooted protest. By 3:50 a.m., the occupiers kicked off a general assembly meeting at the square, and by five, some 200 protesters had gathered at Foley to rest, eat, and decide what to do next. An Occupy Foley Square Twitter account was created, and at 8 a.m., a few hundred people set off on a march from Foley Square toward City Hill. 
From City Hall, the march was headed back to Zuccotti Park, where protesters thought they'd be able to get back into the park: A New York City judge, Justice Lucy Billings, ruled this morning that Mayor Bloomberg must "show cause" for evicting the Occupy Wall Street protesters from Zuccotti Park early this morning, and that until the matter is heard in court, the city must not enforce "'rules' published after the occupation began or otherwise preventing protesters from re-entering the park with tents and other property previously utilized."  Billings's order quite clearly stated that protesters had to be allowed back in, at least until an 11:30 a.m. hearing could clearly resolve the legal issues. But at his press conference this morning, Mayor Bloomberg seemed (perhaps willfully) unclear about precisely what the restraining order said, or how it would be enforced. "We haven't seen it or been served with it," he said. The mayor said that while protesters were initially allowed back in after cleaning — about 50 or so by his count — the city re-evacuated the group once they learned of the court order.
"The intention was to reopen the park and let people go in and express their First amendment right to protest or their First amendment rights to just go in an enjoy the park," Bloomberg said. Until just a few minutes before the press conference, he said, they had "every intention" of letting the group back in immediately,  unlike in "in many places [where] they were prevented from going back in." But now, says Bloomberg, it makes sense to keep them out until the city can "clarify the situation" in court this morning. "If the judge changes his mind,  it would create a danger to public safety, " the mayor said.
Bloomberg emphasized that while there was pressure from Zucotti's owners, Brookfield Properties, "the final decision to act was mine and mine alone." The mayor said it ultimately became an issue of safety for the city: "We must never be afraid to insist on compliance with our laws." He estimated arrests at approximately 200, and said that he knew of just three small medical issues. Commisioner Ray Kelly said that "several hundred" police officers were involved in the evacuation effort.
Update: As protesters attempt to re-enter Zuccotti Park, NYPD officers are blocking at least one entrance while demonstrators chant, "We have a court order!" There are reports of arrests.
Meanwhile, another group of protesters, many carrying new signs, have gathered in a public space at Sixth Avenue and Canal Street, which happens to be right outside of Intel's office window. Our own Chris Smith reports that a confrontation is building as protesters attempt to open the Grand Street gate of what's known at Duarte Square, and have already erected a tent inside as cops gather to block them from entering, or at least slow the crowd. Here's the scene below: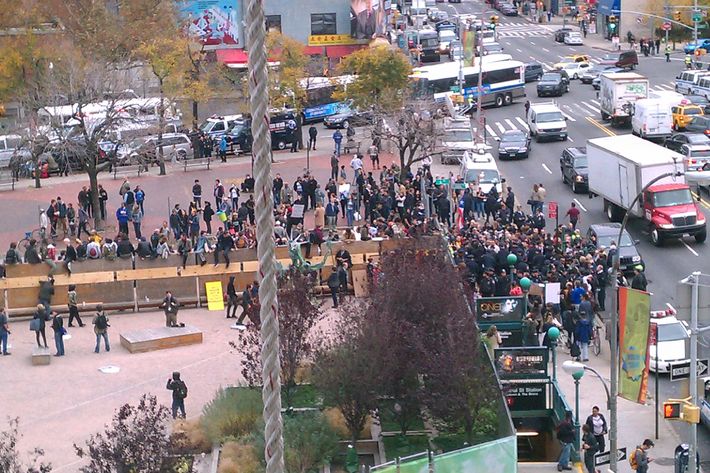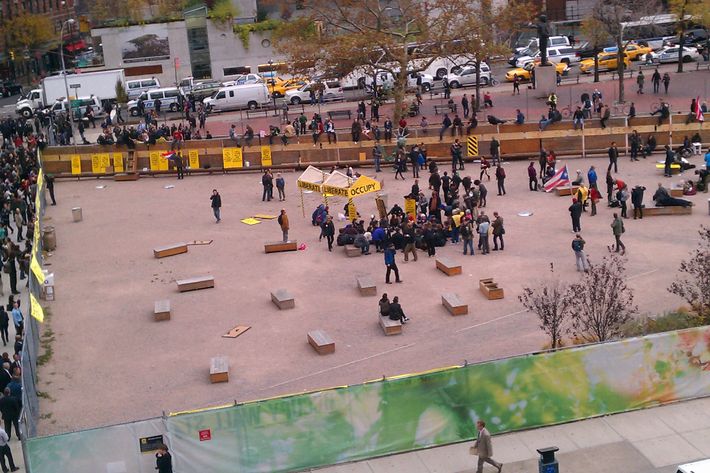 Public Advocate Bill De Blasio has released a statement calling Bloomberg's raid "needlessly provocative and legally questionable." Here's the full text:
"Protecting public safety and quality of life for downtown residents, and guaranteeing free expression are not exclusive of one another. Mayor Bloomberg made a needlessly provocative and legally questionable decision to clear Zuccotti Park in the dead of night. That some media and observers were prevented from monitoring the action is deeply troubling.

"I know of no one—protesters included—who desires a permanent occupation of lower Manhattan. But provocations under cover of darkness only escalate tensions in a situation that calls for mediation and dialogue. I call on the Mayor to find a sustainable resolution—as other cities have done—that allows for the exercise of free speech and assembly, with respect for the rights of all New Yorkers to peaceful enjoyment of our great city."
Update 2: A judge sided with the city on Tuesday evening and ruled that protesters will not be allowed to return to Zuccotti Park with their tents, generators, and other overnight supplies.
Related: Police in Riot Gear Evict Zuccotti Park
This post has been updated throughout.