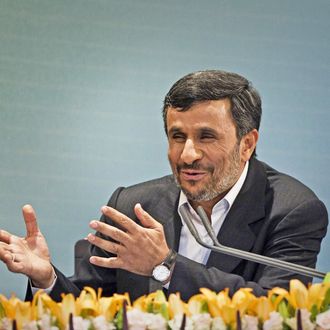 Iranian President Mahmoud Ahmadinejad
Photo: BEHROUZ MEHRI
An imminent report by the International Atomic Energy Agency — the United Nations' nuclear-weapons watchdog — is expected to suggest that Iran is on the verge of becoming a nuclear state, according to the Washington Post. "Intelligence provided to U.N. nuclear officials shows that Iran's government has mastered the critical steps needed to build a nuclear weapon, receiving assistance from foreign scientists to overcome key technical hurdles, according to Western diplomats and nuclear experts briefed on the findings," the Post reports.
The New York Times is taking a more wait-and-see approach, and suggests the Obama administration will do the same. "The case is hardly conclusive," the Times writes, regarding a nuclear Iran. "Iran's restrictions on inspectors have muddied the picture." The IAEA's full report is expected to arrive as early as  Wednesday.

The crucial component of Iran's nuclear program is an implosion device, which IAEA officials believe Iran is now testing. President of the Washington-based Institute for Science and International Security and former IAEA official David Albright reviewed the documents provided to U.N. officials. The Post reported:

Albright said IAEA officials, based on the totality of the evidence given to them, have concluded that Iran 'has sufficient information to design and produce a workable implosion nuclear device' using highly enriched uranium as its fissile core. In the presentation, he described intelligence that points to a formalized and rigorous process for gaining all the necessary skills for weapons-building, using native talent as well as a generous helping of foreign expertise.
Those foreign experts are believed to include former Soviet nuclear scientist Vyacheslav Danilenko, North Korea, and the "father" of Pakistan's nuclear program, Abdul Qadeer Khan.