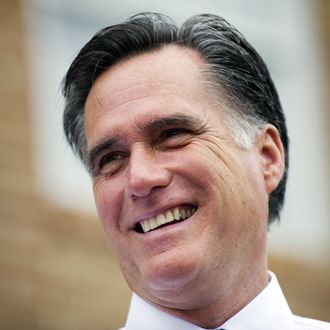 Mitt Romney.
Photo: JIM WATSON/2011 AFP
Though the Republican primaries are almost two months away, Mitt Romney and his team have begun to focus at least part-time on the race that might follow, against incumbent President Obama. It helps that Rick Perry has self-destructed and Herman Cain had his own oops-esque moment today. The lack of heat on Romney from the other candidates has been a great frustration for Obama's aides, the Times suggests, as they would like to see Romney tarred, feathered, and have his hair messed up.
Part of Team Romney's strategy involves filming stories from jaded, financially troubled citizens. "We go to a lot of job fairs,"  Stuart Stevens, a top adviser to Mr. Romney, told the Times. "You cannot spend a half-hour at a job fair and actually talk to people without having to leave because you'll start crying."
The tear-jerking videos will be packaged and filed under what Romney has termed the "Obama Great Recession."
Over the weekend, the former Massachusetts governor, given a 70 percent chance on Intrade right now to become the Republican presidential nominee, took a direct shot at Obama. According to the Times:
The candidates themselves engaged in one of their first direct exchanges over the weekend, with Mr. Romney asserting at a debate Saturday that Iran's progress toward developing a nuclear weapon represented Mr. Obama's 'greatest failing.' Asked to respond on Sunday, Mr. Obama shot back that 'anyone who claims' that containing Iran's ambitions is easy 'is either politicking or doesn't know what they're talking about.'
And that's apparently how Obama will attack Romney: Painting him as a misinformed man motivated by the prospect of becoming president. Obama's camp has had an eye on Romney for a while now, and it's already run commercials targeting his remarks, namely the "corporations are people" line and Romney's comment that the foreclosure process should  "just run its course and hit bottom."
The gloves are off, and the commercials are on.