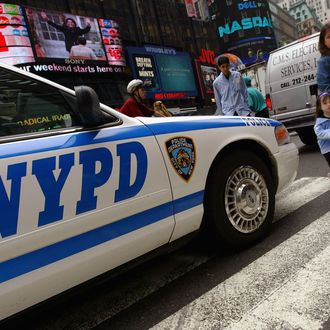 Photo: Spencer Platt/2004 Getty Images
A ten-year veteran worker at the College of Staten Island, thought to be 39-year-old Corey Holmes, a cafeteria porter, died yesterday when he apparently went into cardiac arrest while fighting with an NYPD officer. Just after noon, the cop reportedly discovered Holmes smoking weed in a bathroom on campus. While fighting, the two men ended up outside in the parking lot, where a cell phone picture shows the officer and another unidentified man atop a subdued guy. Details are sketchy, but somehow along the way, a man definitely lost his life.
The Staten Island Advance reports:
At some point, Holmes grabbed for the officer's gun, and though it's not clear if he managed to yank it from its holster, the slide pulled back, ejecting a live round from the chamber, sources said. No shots were actually fired during the scuffle.

Several passers-by rushed to assist the officer, and the man went into cardiac arrest, possibly after falling or being tackled, sources said. He was taken to Richmond University Medical Center, West Brighton, and later pronounced dead. The city medical examiner's office will conduct an autopsy today, a spokeswoman said.
Uninformed rumors spread quickly via social media about a shooting, while others heard talk of a car accident. "I think there was something going on and they just didn't want us to know," one student guessed. But a high-ranking school administrator said, "This particular incident, I'm very comfortable with how the college handled it." There are doubtlessly others hoping for some more clarifying details.