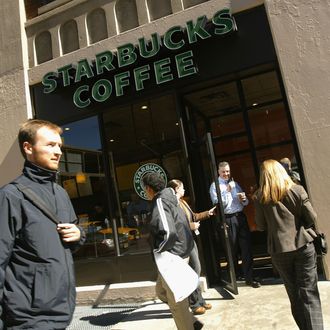 The location of a precious Starbucks bathroom.
Photo: Spencer Platt/Getty Images
Starbucks, the New York urinating public, and Starbucks employees are engaged in a great tug-of-war over the coffee giant's bathrooms. Last week it was reported that Starbucks wished to no longer serve as New York's public bathroom, and would begin to allow only employees to use the loos. But the next day, after word of the horror spread, the company attempted to squash what it called a rumor, tweeting, "We're definitely not closing bathrooms for customers or the general public, to clear that up."
It turns out that the closed-door policy was implemented by frustrated, disgusted employees, not the chain.
"I have personally cleaned up almost every humanly fluid and plenty that didn't seem human," one employee wrote on the StarbucksGossip website, coming to a passionate defense of the rebel latte makers, the Times reports.
"I am continually amazed by what people will do when given a few square feet of privacy," another wrote. "Why do you want to have sex in a bathroom? I think the toilet would be kind of a mood killer."
Part of the chain's strategy is actually premised on making bathrooms available, so customers can stop, buy coffee, sit, pee, buy something, pee, rinse (maybe), repeat, and so on. Of course some people patronize the bathroom only, but that's only a problem for the poor folks who have to clean up unnatural messes and wait on the lines.
To prevent certain stores from keeping bathrooms closed to customers, headquarters dispatched some higher-ups to fling the doors back open at offending locations.