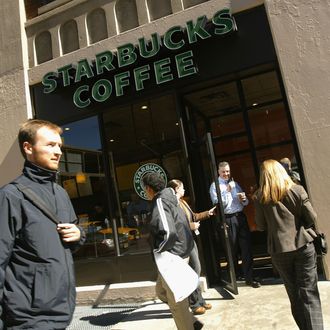 Everyone entering and leaving this Starbucks has used or is about to use the bathroom.
Photo: Spencer Platt/Getty Images
Anyone in dire need of a bathroom in Manhattan instinctively looks for the nearest Starbucks, and with 196 locations in the borough alone, they can probably find one pretty easily. Sometimes, they might actually buy something while they're there, too. We always thought it was a pretty genius business strategy: Come for the emergency bowel movements, stay for the pastries!
But apparently the chain's reign as an oasis in the toilet desert of Manhattan may be coming to an end, according to the Post:
"Starbucks cannot be the public bathroom in the city anymore," said a source familiar with the company's New York plans.

The main reason for the closed-door policy is that Starbucks' own employees have to wait in lines — competing with customers filled with Pumpkin Spice Latte and other trendy drinks — when they take a bathroom break. Or they can cut in line, but that angers customers.

The solution is to convert public bathrooms to employee-only loos.
The Post only points to one Manhattan Starbucks that has actually done this so far, but even the mere prospect of large-scale bathroom-shutterings is terrifying. Is this really the only way to solve the problem? How about installing a bare-bones, employees-only bathroom in the back of the store? Or even better, bioengineering baristas who don't need bathrooms in the first place? How hard can that be? Have you even tried?
Update: Starbucks tweets reassuringly that it is "not closing public bathrooms at all, that's not true," and "we're definitely not closing bathrooms for customers or the general public, to clear that up." A spokesman also tells AllMediaNY, "Reports that we are eliminating public restrooms are completely false."