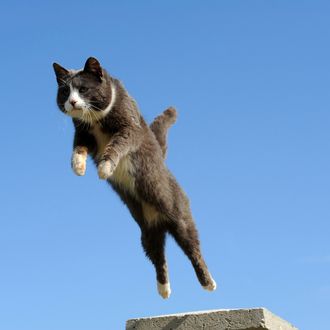 In training.
Photo: istockphoto
"It is a sport in which the contestants sometimes lie down in the middle of the field, unmotivated and bemused," begins the lede for a story in the New York Times' sports section. We were all set for a discussion of the Jets' defense, but it turns out this was an article about feline agility competitions, like the "Meet the Breeds" show that's taking place at the Javits Center this weekend. It's all Very Serious Stuff:
Most people send their cats into the ring cold, where they often get spooked by the crowds and unfamiliar setting. But others train their cats — usually with a regimen of kibbles, praise and neck rubs — and find that they will do tricks, albeit on their own terms. […]

Twyla Mooner, a Bengal from Reston, Va., is considered one of the greatest agility champions and will compete in Indianapolis this weekend. "She is all about speed," said her owner, Lisa Maria Padilla. "There is not a whole lot of finesse and style, but she burns through the course, and she is good for about two runs a day."

Most owners are not so lucky. Cat agility videos on YouTube show more bloopers than triumphs.

"There are people there shaking a feather for what seems like an eternity, and the cat just looks at the person and says, 'I don't think so,'" said Hutcherson, the breeder in Maryland.
Tickets are $12, which seems like a lot for the experience of witnessing abject rejection. Or, compared with Jets tickets, a bargain.