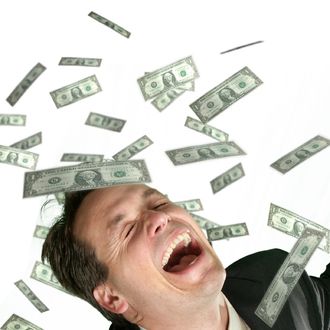 Of the more than 200,000 jobs lost in the financial services industry this year, one former investment bank head remarked to Bloomberg, "This is a structural change. The industry is shrinking." Banks around the world have been hit hard, and one economist guesses that Wall Street won't regain jobs "until about 2023." Bonuses will definitely be down from last year's $128,530 average; as one guy put it, "My Fidelity account looks like my bar tab from just a week ago." The dark economic climate is especially hard on the youth, who, coming from Harvard and Penn, had dreams of lobster, bottle service, and proud parents. This year is a nightmare.
DealBook reports that jobs at investment banks and brokerage firms for people between the age of 20 and 34 have fallen by 25 percent since this time in 2008, a loss of 110,000 jobs. Overall, it's more like 17 percent, but old people are safer, with employees over the age of 55 only decreasing by 11 percent in the same period.
It is noted, though, that being dropped from a Wall Street job can be pretty sweet:
Laid-off financial workers typically get large severance packages, including the use of outplacement services. During their job hunt, many can draw on substantial savings built off past bonuses, on top of collecting unemployment.
It's not that more unemployed people is ever a good thing — especially young people, the future — but scenes like this one aren't exactly tugging at heart strings:
Sam Meek, 27, who was laid off in September when his Connecticut hedge fund decided to downsize, used to spend $500 on charity dinners and lavish golf outings. Now, it's home-cooked meals and beer on the sofa. Recently, Mr. Meek and his roommate, another unemployed banker who spoke on the condition of anonymity because he did not want to jeopardize his job search, sat together in the kitchen filing for unemployment and drinking a bottle of Champagne.

"I'm scraping by right now," he said.
To be fair, that's not really a typical example. Often it's not Champagne, it's Scotch.