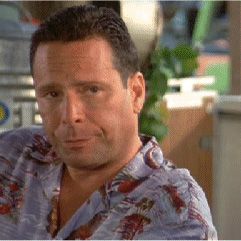 Roy Ageloff, Mr. Pump-and-Dump.
Photo: Artisan Entertainment
If that combination is your cup of tea, you probably know dudes like that can be tough to meet, let alone pin down in an actual relationship. Which is why Roy Ageloff, 52, might just be your guy.  For one thing, you'll always know he is where he says he is, at least until December 2013. Because the former trader (who also appeared in a straight-to-video Stephen Baldwin–Dennis Rodman vehicle called Cutaway, playing someone named Boom-Boom) is in jail, convicted on racketeering charges for a "pump-and-dump" scheme and some associated, casual money laundering. He's also got ties to the Genovese crime family. That bit is glossed over in his online dating profile on the website Prison Inmates Online, where he instead plays up his Wall Street ties. "Believe it or not, I was once on top of the world," it reads. "Unfortunately, I've temporarily been dethroned of my crown. Are you up for the journey back to the top with me?" Ageloff also adds, "The one thing I can guarantee is you will never have a dull moment with me," insisting, "just Google my name. Believe me, you will be entertained." (Intel can confirm this last bit.) He also likes Italian food, house music, and Field of Dreams, and he wants a lady "who may be interested in sharing my love for sports, entertainment, but most of all adventure." Adventure! He sounds reformed.  Really, as soon as he transfers this thing to Match.com, women will be lining up in droves.