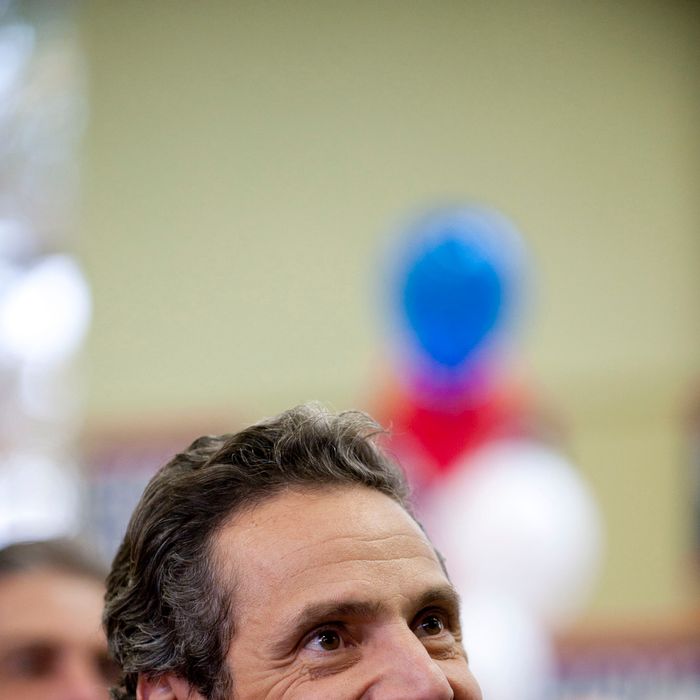 Photo: Gordon M. Grant / Splash News/???? www.splashnews.com
When is a millionaires' tax increase not really an increase? When Governor Andrew Cuomo says so.
Well, he probably won't get away with that part of the spin — claiming that today's deal to rejigger the state's tax code is actually a cut for the wealthiest New Yorkers, because their new rate (8.82 percent) is less than what they're paying until December 31 (8.97 percent), when the temporary "high income surcharge" expires … after which the rich would have gotten an even bigger tax cut (6.85 percent), if state politicians hadn't acted. Got that?
But otherwise Cuomo wins big again. Through November he watched as the state's revenues and year-end financial-industry bonuses slumped, leaving him with an immediate $315 million shortfall and a $3.5 billion hole in the next fiscal year. He knew that a second budget of deep cuts would be highly painful, especially for New York's poorest. And he hated the banner hanging at the Occupy Albany encampment across the street: WELCOME TO ALBANY, HOME OF GOVERNOR ONE PERCENT.
So Cuomo began stealthily working the phones, laying the groundwork for a tax code overhaul with business leaders, progressives, Shelly Silver, and Dean Skelos. The rollout was a signature Cuomo production: Last week a leak to The Wall Street Journal floating the idea and a coy radio interview with the Post's Fred Dicker, then a Monday-morning Times story containing approving quotes from gatekeepers on the left and right — Dan Cantor of the Working Families Party and Kathy Wylde of the Partnership for New York City — all while holding back the specifics of the plan until the very last minute.
Fiscal conservatives can complain that the governor has broken his "no new taxes" campaign pledge, and that the state still spends too much money, and they've got a point. Yet realists on both sides pronounced themselves satisfied with today's plan. "The business community can count — we know he's got a real money problem," one of its leaders says. "And his first-year budget earned him credibility, so we can live with this." "This moves in the right direction," a progressive leader says. "It's better than more austerity."
Huge challenges remain — the MTA's budget is now even more vulnerable, pitched battles over reducing the state's pension costs are looming, and the projected revenue gain from the new tax brackets isn't even half of what the expiring millionaires' tax brought in. So perhaps Cuomo should save his triumphant pronouncements about how much better Albany functions than Washington.
Today's deal, though, makes it plausible that he could extend his magic act. "The man has no real core," one powerful New York politico says. "But maybe that's what it takes to do this job well."