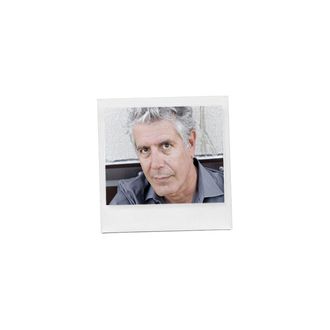 Name: Anthony Bourdain
Age: 56
Neighborhood: Upper East Side
Occupation: Host of Travel Channel's The Layover (Mondays at 9 p.m. E.T. through January 23) and award-winning No Reservations. World traveler, chef, and author.
 
Who's your favorite New Yorker, living or dead, real or fictional?
Joey Ramone.
What's the best meal you've eaten in New York?
Bagel, nova, cream cheese at Russ & Daughters. Not just the best, but "ours."

In one sentence, what do you actually do all day in your job?
I travel around the world eating and drinking and making self-indulgent television about the experience.

What was your first job in New York?
Bicycle messenger for Can Carriers.
 
What's the last thing you saw on Broadway?
Does Dora the Explorer Live! count? [Editor's Note: Sure.]
 
Do you give money to panhandlers?
Yes.
 
What's your drink?
Negroni if in a good mood. Bourbon or Scotch if feeling bad about the world.
 
How often do you prepare your own meals?
Rarely. I'm seldom home. I'm lazy. And all my friends are chefs.
 
What's your favorite medication?
Vicodin.

What's hanging above your sofa?
A re-creation of the mural from the old Siberia Bar.

How much is too much to spend on a haircut?
Lately, I'm thinking twenty bucks.

When's bedtime?
When I'm home? When my daughter finally agrees to pass out.

Which do you prefer, the old Times Square or the new Times Square?
The old Times Square, even with all its ugliness and squalor. I miss the grind-house triple bills most of all. I'm not sentimental about crack or predatory hustlers, but it has become the encapsulation of everything I hate. In its current iteration, it could exist anywhere.

What do you think of Donald Trump?
I like the old Spy magazine description of Trump as a "short fingered vulgarian." Who lets him go out looking like that?

What do you hate most about living in New York?
"Hate"? Nothing. Okay. I hate that all the cabs seem to go off duty between 4 and 5 p.m.
 
Who is your mortal enemy?
Anyone who wants to make my television show more stupid than it already is.
 
When's the last time you drove a car?
I drive my daughter to school every day I'm in New York. It's my first car ever, so I drive at every opportunity. Want a lift somewhere?

How has the Wall Street crash affected you?
I won't be retiring anytime soon, let's put it that way.
 
Times, Post, or Daily News?
I need both the Times and the Post every day. They strangely complement each other.
 
Where do you go to be alone?
My home office/man cave.
 
What makes someone a New Yorker?
If you've come here from anywhere else on Earth and spent two years living here … and you still love it? You are a New Yorker.
Related:
Anthony Bourdain Tells Grub Street About the Food Shows He Actually Likes
The Ten Most Insulting Things Anthony Bourdain Has Said About Food Network