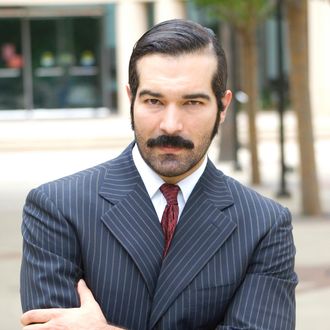 "Mike." Not really, though.
We're actually not sure which is worse. First, there's the tawdry tabloid tale of David Gray, a married 28-year-old JP Morgan analyst who began an affair with a 25-year-old co-worker, Daniela Rausnitz. She subsequently asked for a transfer to London, supposedly to get away from him; she says he stalked her there, too, and got especially enraged when he found out she had a new boyfriend.  A London court convicted Gray of harassment — during one 16-hour period alone, he sent her 176 texts and 23 e-mails, which does seem like he was pressing the matter a bit.
But that might be eclipsed by the 1,615-word e-mail from a different investment banker, "Mike," to a different lucky lady, "Lauren," which showed up on Reddit and was republished by the Observer. Apparently, they'd gone out, she'd led him on, and he wanted her to know how upset the whole thing had him.
If you're not interested in going out again, then I would have preferred if you hadn't given those mixed signals. I feel led on. We have a number of things in common. I'll name a few things: First, we've both very intelligent. Second, we both like classical music so much that we go to classical music performances by ourselves. In fact, the number one interest that I would want to have in common with a woman with whom I'm in a relationship is a liking of classical music. I wouldn't be seriously involved with a woman if she didn't like classical music. You said that you're planning to go the NY Philharmonic more often in the future. As I said, I go to the NY Philharmonic often. You're very busy. It would be very convenient for you to date me because we have the same interests. We already go to classical music performances by ourselves. If we go to classical music performances together, it wouldn't take any significant additional time on your part. According to the internet, you're 33 or 32, so, at least from my point of view, we're a good match in terms of age. I could name more things that we have in common, but I'll stop here. I don't understand why you apparently don't want to go out with me again. We have numerous things in common. I assume that you find me physically attractive. If you didn't find me physically attractive, then it would have been irrational for you to go out with me in the first place. After all, our first date was not a blind date. You already knew what I looked like before our date. Perhaps, you're unimpressed that I manage my family's investments and my own investments. Perhaps, you don't think I have a "real" job. Well, I've done very well as an investment manager. I've made my parents several millions of dollars. That's real money. That's not monopoly money. In my opinion, if I make real money, it's a real job. Donald Trump's children work for his company. Do they have "real" jobs? I think so. George Soros's sons help manage their family investments. Do they have "real" jobs? I think so. In addition, I'm both a right-brain and left-brain man, given that I'm both an investment manager and a philosopher/writer. That's a unique characteristic; most people aren't like that. I've never been as disappointed and sad about having difficulty about getting a second date as I am with you. I've gone out with a lot of women in my life. (FYI, I'm not a serial dater. Sometimes, I've only gone out with a woman for one date.) People don't grow on trees. I hope you appreciate the potential we have.
How shocking that sometimes he doesn't make it past the first date!