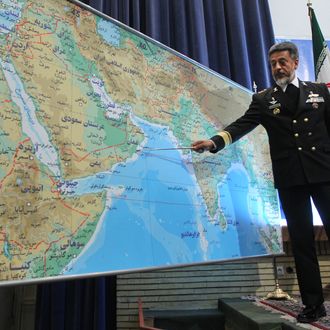 Damn, the Iranians appear to have pinpointed the exact location of the Strait of Hormuz.
Photo: Hamed Jafarnejad/AFP/Getty Images
We're not saying we're 
definitely
 going to war with Iran soon. But maybe start preparing yourself mentally, just in case, like when you sense something scary is about to happen in a horror film. For two days in a row now, Iran has threatened to use its military to cut off access to the Strait of Hormuz — a shipping route through which one-sixth of the world's oil passes as it leaves the Persian Gulf — if the United States follows through on new sanctions that 
recently passed in Congress
. The
U.S.
Navy responded today that "
any disruption will not be tolerated
." Great.