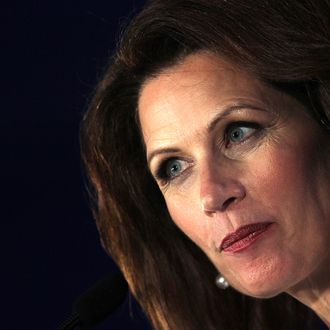 Who's next?
Photo: Justin Sullivan/2011 Getty Images
Michele Bachmann's gradual fall down the mountain has become an avalanche. Yesterday, Bachmann's Iowa chief Kent Sorenson shamelessly ditched her for a more attractive candidate and today, her political director Wes Enos left too. His departure came after defending Sorenson against Bachmann's claim that the former chief was bribed away by Ron Paul's campaign.
"He told me that he was offered money, he was offered a lot of money by the Ron Paul campaign," Bachmann said, standing by her allegation, according to Businessweek. "No one else knows about that conversation other than Kent Sorenson and myself."
Enos couldn't countenance her position. "I am no longer serving in an official capacity with the campaign," he said earlier in the day. And Enos' full statement:
"I won't say much about the situation or the conflicting statements beyond this; I can say unequivocally that Kent Sorenson's decision was, in no way financially motivated.

"His decision had more to do with the fact that the Ron Paul supporters have been something of a family to him since he was first elected in 2008 and here in the end, as it becomes more and more apparent that the caucus cycle is coming to an end, Kent believed that he needed to be with them as they stand on the cusp of a potential caucus upset.

"While I personally disagree with Kent's decision, and plan to stay with Michele Bachmann because I truly believe in her, I cannot, in good conscious watch a good man like Kent Sorenson be attacked as a 'sell-out' ….That is simply not the case, and it was not the basis of his decision."
Enos told NBC News via text message that his open disagreement with Bachmann was a de-facto goodbye. "It was a mutual thing," he said. "I knew when I undermined [Bachmann's] statement last night that I effectively was tendering my resignation."
Unlike Sorenson, Enos doesn't intend to change uniforms, and still plans to caucus for Bachmann.

The whole thing feels like a sad break-up story where a person loses a lover and the mutual friend follows out the door. 
Bachmann intends to press on, maybe hopelessly.

Related: Santorum Rises as Bachmann Falls in Iowa