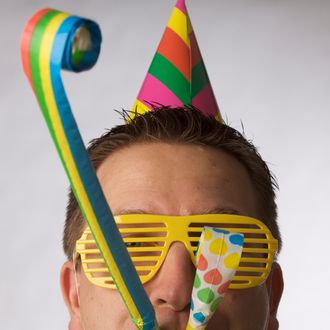 New Year's guy.
Photo: iStockphoto
In keeping with the cloudy economic climate, Wall Street banks have scaled back their Christmas parties — at least the official ones. As Dealbook's Kevin Roose reports, it's the fourth year running that there's been no corporate party at Morgan Stanley and Goldman Sachs; investment banking divisions of at Citgroup, Bank of America, and JP Morgan also refrained. Individual divisions, though, can throw their own parties, and one Morgan Stanley group opted for an ugly-sweater party at an Upper East Side bar, which sounds about right — we're guessing the party planning committee consisted mostly of young analysts. Hedge funds, though, still throw big shindigs:
Bridgewater Associates, the giant hedge fund headquartered in Westport, Conn., rented out the Webster Bank Arena, a 10,000-seat arena in nearby Bridgeport, for its holiday party, according to several people with knowledge of the event. The Royal Bank of Canada held a party for its New York office at Chelsea Piers, in a high-end event space that can accommodate up to 2,000 guests, according to two people who attended but were not authorized to speak on the record about it.
Roose also notes that just 74 percent of companies nationwide held holiday parties this year, down nearly 20 percent from five years ago. Did yours? Was it fun? Did people wear ugly sweaters either accidentally or on purpose?