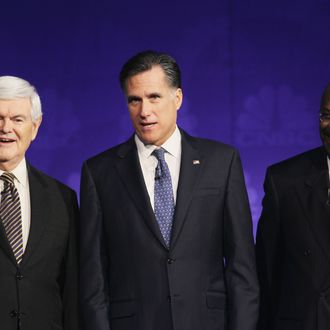 One of these men killed Newt Gingrich's campaign.
Photo: Scott Olson/Getty Images
Newt Gingrich's collapse is accelerating, as a new PPP poll has him down to third place in Iowa, behind Ron Paul and Mitt Romney. A return to obscurity beckons.
Romney's one path to defeat involved a candidate winning Iowa who could rally the large base of Republicans unenthused about his candidacy (which is to say, all Republicans who are not Mormon or David Frum.) Each of those potential alternatives collapsed, with Gingrich now the latest.
Of course, Gingrich's political death was no accident. He seems to have been killed by millions of dollars in attacks from allies of Romney and a justifiably horrified party Establishment. Gingrich's net favorable ratings in Iowa collapsed an incredible 30 points in two weeks. Gingrich may or may not get a big infusion of cash from Sheldon Adelson, but even if he does, it's probably too late.
And now, with Christian conservatives splintered, the path is clear for Paul to win Iowa. Short of Romney winning Iowa, that would be Romney's best possible outcome, as Paul can't possibly cobble together the support of a majority of Republicans or anything close.