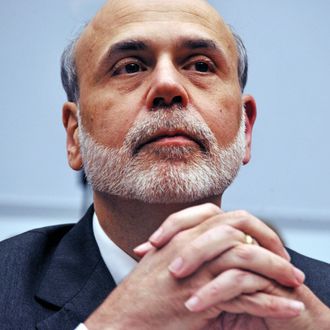 Monetary policy stars: They're just like us!
Photo: KAREN BLEIER/2011 AFP
Fed chairman Ben Bernanke, like lots of people, still owes the bulk of money on the $850,000 Washington, D.C. home he purchased in 2004. Like lots of people, he had to send proof of employment and pay stubs in order to get a loan. Also, like lots of people, he's refinanced a couple of times in the past couple of years at key junctures, reports The Wall Street Journal. The first time was mid-financial crisis in 2009, and the second time was this September, in the wake of a newly announced Fed program to lower long-term interest rates. Almost seems like the guy was paying close attention to the American economy!
Another Bernanke tidbit from the WSJ: He's an avid evening reader, and says he's read more than 200 books on his Kindle in the last eighteen months. (Most recently, In the Garden of the Beast, about Germany before WWII and a Bill Bryson book about nineteenth-century British homes). So maybe he's no average American after all — what, you too good for TV-watching, Bernanke?