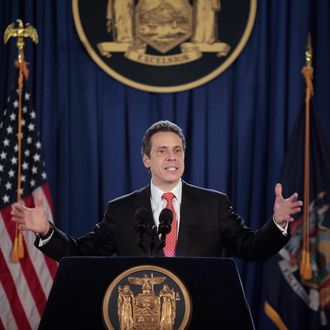 Photo: Pool/2011 Getty Images
As he hinted at last week, early reports about Governor Andrew Cuomo's tax plan say it includes "comprehensive reform" of the New York tax code, including at least one new bracket for the state's richest residents. Cuomo said while campaigning for office that he was against raising taxes and renewing the state's millionaires' tax, but a new set of circumstances may mean the governor's plan would have "high-income earners … paying less than they did under the surcharge — allowing officials to say that the millionaires' tax had lapsed — but paying at a higher rate than they would have been under existing tax brackets," the Times reports. Mayor Bloomberg, while not quite declaring war on Cuomo yet, doesn't sound pleased.
"I think you have to look at everything, but fundamentally you cannot tax your ways out of problems," said the mayor today when asked about preliminary reports of the plan. "You've got to get your expenses under control and build the economic base so that if you have tax revenue increases they should come from expanded — an expanded economy, as opposed to expanded — to tax rates." The billionaire mayor said he couldn't yet speak on Cuomo's ideas specifically. "I haven't seen what the governor's plan — I've not talked to him about it," he said.
Newt Gingrich, who has probably not seen the plan, either, but happens to be in town, told reporters today when asked about Cuomo's rumored changes to the tax code, "If I were the Florida Chamber of Commerce, I would run ads, encourage him to do it." But Gingrich also thinks he can win New York in 2012, so maybe his grasp of local issues is less than firm.