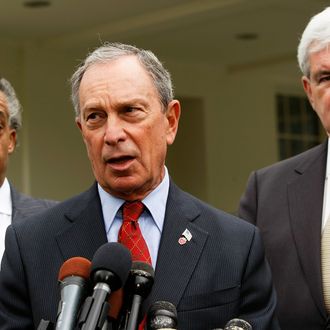 Newt Gingrich likes to pretend that he is not rich.
Photo: Alex Wong/2009 Getty Images
Three weeks ago, when Newt Gingrich came to town for a powwow with the world's most ridiculous person, Donald Trump, Mayor Bloomberg was asked his thoughts on the meeting. Passing on the opportunity to make a Barnum and Bailey joke, he told reporters that Trump is "a smart guy, an interesting guy," and that Gingrich, "whether you agree with him or not," is "certainly a smart guy." Bloomberg and Gingrich worked together on education reform not too long ago, so the respect was surely genuine. But out of the blue this Wednesday, Gingrich slammed Bloomberg during a campaign stop in Iowa:
"We don't come from a background where we can buy a seat or buy, as Mayor Bloomberg did, buy the mayorship of New York," Gingrich said. "I mean, if you just look at how much he spent, he just wrote a check and bought it."
Not a totally unfair point, although, in reality, it wasn't quite as simple as writing a check and purchasing another mayoral term, in the way someone might, say, cut a check for $500,000 worth of Tiffany jewelry.

Anyway, Bloomberg claims he isn't bothered in the least by Gingrich's unprovoked slight. He is too busy, after all, saving thousands of lives:
The mayor reacted to Gingrich's stinging comments yesterday as though he had more important things on his mind.

"Did he say something?" Bloomberg asked at a Brooklyn press conference, drawing laughs.

"Look, my job is to do more events like this, to be able to say that life expectancy [is up], that crime has gone down, deaths by traffic [are down], that schools are improving, and that's what I'm going to focus on."
Still, that doesn't mean that the next time Gingrich shows his face New York, Bloomberg won't try to toss him out of the city, Larry David style.