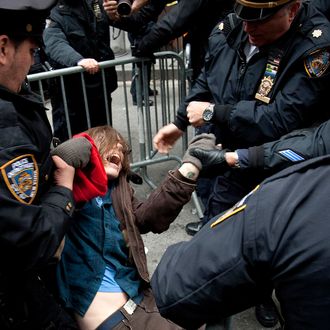 Photo: Bloomberg/2011 Bloomberg
During his weekly radio address this morning, Mayor Bloomberg continued to defend the raid on Zuccotti Park last month, perhaps even overselling the public's support for his forceful actions. "In retrospect, if you think about it, everybody thought it was the right thing to do," Bloomberg said, insisting that the NYPD showed "amazing restraint" as they cleared out the protesters' home of more than two months. One notable person that may not agree with Bloomberg's sunny characterization is New York congressman Jerrold Nadler, who this week sent a letter to Attorney General Eric Holder asking for an investigation into police conduct at the Occupy protests nationwide.
Nadler asked the Justice Department to look into reports of excessive force and press interference, which may have violated the Constitutional rights of demonstrators and journalists, and to determine "what can be done to prevent future similar actions." Yesterday, Bloomberg snapped publicly at Nadler.
"If he would spend more time getting us homeland security money, maybe he'd make the streets safer," Bloomberg told reporters of Nadler. "If he could get us more federal moneys, maybe we could make our schools better and we wouldn't have some of the things that people are protesting against."
Nadler responded in a statement: "It is precisely my job, as the ranking member on the House Judiciary's Constitution Subcommittee, to ensure that the constitutional rights of all Americans are respected," he said. "And it is precisely the job of the U.S. Department of Justice to ensure that alleged violations of those rights are investigated, and that federal civil rights laws are vigorously enforced." He added, "It is the mayor's job, I might point out, to ensure that the Police Department, under his command, obeys the laws and respects the rights of all New Yorkers."
Public advocate Bill de Blasio, a potential candidate for mayor in 2013, also took a turn to knock Bloomberg's assertion that the Nadler letter is "ridiculous." De Blasio said, "No, Mayor Bloomberg. What's ridiculous is arresting 26 members of the press for doing their job. Congressman Nadler is right."