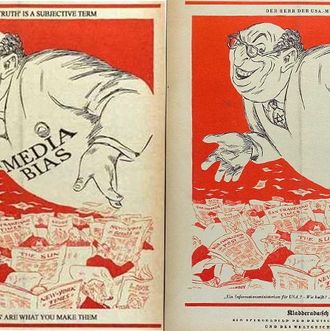 The website Media Matters pointed out (for the second time) last night that conservative provocateur and mini-media mogul Andrew Breitbart's Big Journalism used a touched-up version of an old anti-Semitic graphic three separate times. The original drawing, which features a caricature of a Jewish man, complete with a hooked nose and a Star of David on his tie, can be seen on the white-power message board Stormfront, as published in a 1942 edition of the German magazine Kladderadatsch, while the version on Big Journalism overlayed the text "Media Bias," removed the tie adornment, and adjusted the nose. Big Journalism has replaced the photo in at least one post but, as of this writing, it remains in another. In typical Breitbart style, he's now fighting about it with critics on Twitter.
"We took the damn thing down BEFORE there was any criticism," Breitbart wrote. "What more can you want?" He continued: "It takes NY TIMES weeks, months to correct errors. We took it down. We are writing a response now. Pretty fast, no?!"
Eric Boehlert of Media Matters asked on Twitter, "whats the over/under for how many hrs @andrewbreitbart dances around Nazi cartoon fiasco w/o taking responsibility?"
Big Journalism editor Dana Loesch called the claims of anti-Semitism "libel" and turned the accusations back around at Media Matters, which, she writes, is "desperately trying to hide growing accusations of their antisemitism by fabricating examples elsewhere. Comical."
The ongoing fight between the two outlets is absurd in itself; the issue seems pretty clear. An apology is in order, even if it was a mistake, and the ugly image has no place on a news website, ever, altered or not. Anyone who might insist otherwise can stick to Stormfront.