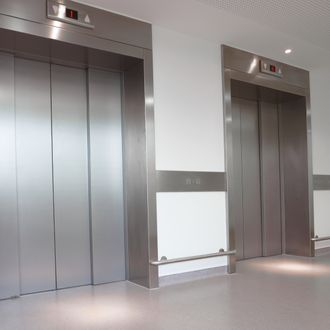 Mere days after the freak death of a woman crushed between floors of a Manhattan office building comes another tale of elevator horror. Delores Gillespie was returning home to her Prospect Heights apartment with groceries when her clearly dejected (and sociopathic) ex-boyfriend cornered her in the building's elevator, sprayed her with lighter fluid, lit a Molotov cocktail, used the wick to set Gillespie on fire, and then threw the homemade explosive in after her. (All of which was caught on two surveillance cameras.) This is the stuff of bad horror films and nightmares — one 29-year-old neighbor describes "high-pitched yelling" and said "the elevator sounded like it was boiling paint." As of this morning, police were questioning a man, who turned himself in reeking of gasoline.
Update: 47-year-old Jerome Isaac, the same gasoline-soaked man who walked into a police precinct overnight, has been arrested and charged with Gillespie's murder and arson. The reason he did it: Gillespie apparently owed him $2,000.
This post has been updated with additional information.