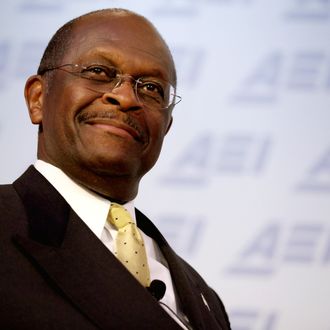 Photo: Chip Somodevilla/Getty Images
Herman Cain admitted in an interview on Thursday that his wife had no clue about his relationship — of whatever sort it was — with Ginger White. Cain claims to have offered financial advice and helped with month-to-month bill paying for thirteen years. His wife, Gloria, only found out about this when White went to the press.

"My wife did not know about it, and that was the revelation. My wife found out about it when she went public with it."

Cain also spoke about the 70 text messages White sent him between October 22 and November 18. "[White was] asking for financial assistance because she was out of work, had trouble paying her bills and I had known her as a friend. She wasn't the only friend who I had helped in these tough economic times, and so her messages to me were relating to 'needed money for her rent' or whatever the case may be. I don't remember all the specifics." Some of his seventeen return texts included messages like "What are you doing to get a job?"

Cain's not sure what's behind White's allegations, but he suspects "someone offered (White) a lot of money."

Cain also announced that he'll decide his campaign's fate by Monday.