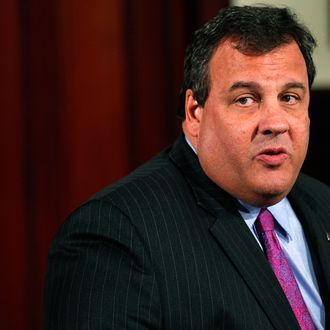 No, no, Romney is the candidate.
Photo: Jeff Zelevansky/2011 Getty Images
In a stump speech in West Des Moines, Iowa, for floundering Republican presidential nominee hopeful Mitt Romney, New Jersey governor Chris Christie called Romney "the most qualified person to be president" and "the only Republican who can win." The jovial governor's comments come at a time when poll respondents, including Iowans, believe quite the opposite: A new CNN/ORC poll has Gingrich leading Romney in the state, 33 percent to 20 percent.
Asked about that on his way out the door, Christie told a reporter he was not concerned by polls that showed Newt Gingrich surging in Iowa, CNN reports.
"Lots of people have surged in the polls out here. I wasn't concerned about Michele Bachmann or Herman Cain or Rick Perry, either," Christie said. "Mitt Romney is the steady, mature leader we need for our party and for our country."
Yet there's reason to believe that Gingrich is not simply the latest GOP flavor, and not only because he's hopelessly clueless like the candidates referenced.