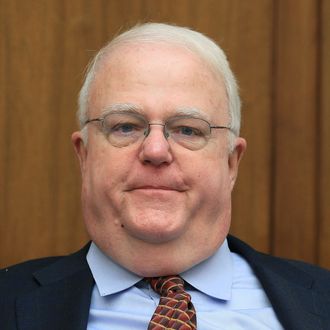 Sensenbrenner.
Photo: Mark Wilson/2010 Getty Images
Obtuse and overweight Wisconsin Republican Representative Jim Sensenbrenner was overheard on his cell phone at the airport saying "very loud" things about Michelle Obama's health food "crap," and how she has no right to tell the world about non-fried foods. The eavesdropper heard Sensenbrenner say that the First Lady "lectures us on eating right while she has a large posterior herself." Oh my god, Becky … Sensenbrenner is now apologizing.
Fishbowl D.C.'s Betsy Rothstein reached out to Sensenbrenner's people about the gossip:
So basically your boss told a constituent that the first lady has a big butt. My questions: 1. Does the Congressman realize that he, also, has a large behind? 2. Does he always speak so loudly on the cell phone?
The congressman's spokesperson did not even bother to deny it, but she opted not to body-snark:
Hi Betsy, I am not going to comment on my boss' "behind."

Mr. Sensenbrenner was referring to the First Lady's healthy food initiative. He doesn't think the government should be telling Americans what to eat.  While he may not agree with all of her initiatives, he plans to contact the First Lady's office to apologize for his comments.
"I regret my inappropriate comment and I have sent a personal note to the First Lady apologizing," Sensenbrenner said today. If there weren't some questionable racial undertones to Representative Sensenbrenner's remark, we might feel bad noting that "large posterior" might just be the whitest thing ever said.