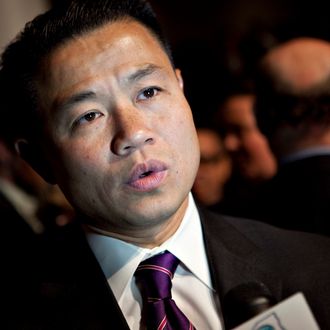 Controller John Liu.
Photo: Bloomberg/2010 Bloomberg
"This money belongs in the city treasury and not under the proverbial mattress," New York City controller John Liu said in a statement. This is the part where we point out that John Liu happened upon a large sum of money from a suspicious source for his own political aspirations. In this case, a recent audit shows that the city apparently has $17 million sitting in a Department of Housing Preservation and Development account that's been drawn upon and received large deposits "with no description of the source or destination for each transaction," according to the audit.

The New York Daily News reports that the account was created in 2007 with $2.4 million from the 8A Loan Program, which is intended to repair dilapidated apartment buildings. However, owing to HPD's apparently poor record-keeping, the now nearly $17 million account has become a revolving door of unidentified payments. Maybe this is where some of the MF Global money went.