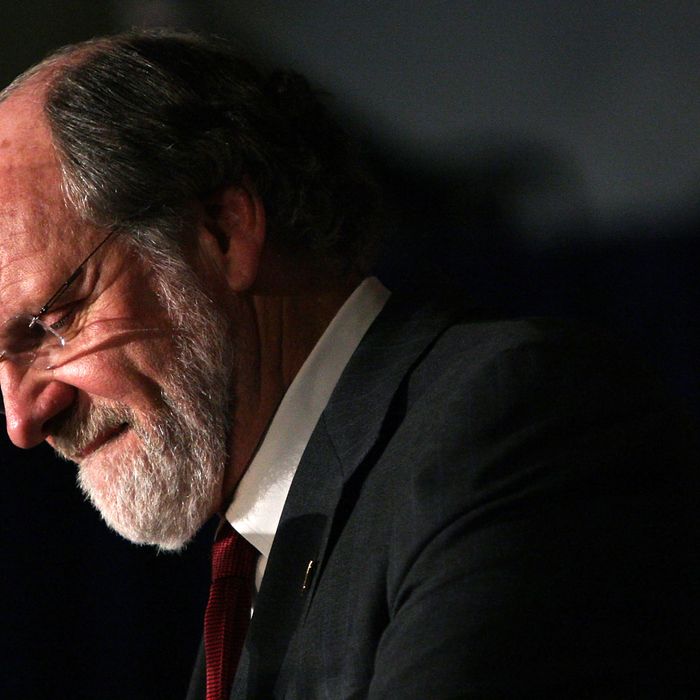 Photo: Mario Tama/2009 Getty Images
Jon Corzine, the ex-head of MF Global (and possible anti-Newt Gingrich protester?), is set to testify before Congress today to explain what exactly went down at the failed firm. His testimony, which was released in advance of the hearings this morning, doesn't shine a ton of light on the biggest MF Global question mark: Where did all that missing money — $1.2 billion in customer funds — end up? Corzine may or may not plead the Fifth at the hearings today; if he doesn't, it could make for a lively session. Either way, the former New Jersey governor and Goldman Sachs boss claims he's just as in the dark as the rest of us. "I simply do not know where the money is." Well then. Case closed! Nothing to see here. Move along, folks.
Not everyone is charmed by Corzine's "money? what money?" act. One MF Global client whose money went missing told Marketplace's Heidi Moore, "If any broker did what Jon Corzine allegedly did, boy, those SWAT teams would be there and they would be breaking down the doors and arresting him. But not Jon Corzine." As for where the money actually went, there are a few theories floating around — it could be at a firm that lent MF Global cash in the last days before its bankruptcy, and then proceeded to sell off the assets that MF Global had leveraged against its borrowing.  There may have been an intermediary firm in there, too, lending Corzine a level of plausible deniability. Another theory, via Felix Salmon, involves "rehypothecation."
You'll remember rehypothecation from the Lehman bankruptcy: brokerage customers of Lehman in the US got their money back much more easily than brokerage customers of Lehman in the UK, because in the UK brokerages are allowed to "rehypothecate" customer funds — essentially, to use them for their own corporate purposes, including putting them up as collateral in their own trades.

And guess what: MF Global, too, had a UK subsidiary, MF Global UK Limited, which had over 10,000 accounts. Just as Lehman monies sloshed back and forth chaotically from New York to London and back in the company's final days, it seems that something similar was going on at MF Global: after all, JP Morgan Chase in London seems to have been transferred quite substantial sums in the days before MF Global's bankruptcy.
11:39 a.m.: The hearing is underway but Corzine has yet to testify. Stay tuned for updates.
1:25 p.m.: Corzine read his prepared statement with only a few minor deviations from script; he paused with a meaningful quaver in his voice on the "sincere apology" bit. As promised, he didn't plead the fifth and is answering the committee's questions.  The very first questioner asked him point-blank whether he knew what had happened to the missing money. Corzine reiterated, carefully and slowly, that he he didn't want to speculate. "Many transactions that occurred in those last chaotic days. … I am not aware of all of them."
1:42 p.m.: Corzine brought his sense of humor to the hearings. ""Governor, Senator, I don't know what to call you …" one questioner began. " A lot of people have bad names," Corzine replied.
3:10 p.m.: Corzine tells the committee, again, that he has no more inside information than they do. ""All I can do is read the same reports that are in the public, and those are confusing to me." Indeed.
Meanwhile, the Wall Street Journal speculates that Corzine is growing a mullet — is business up front, party in the back a metaphor for the state of the MF Global books?