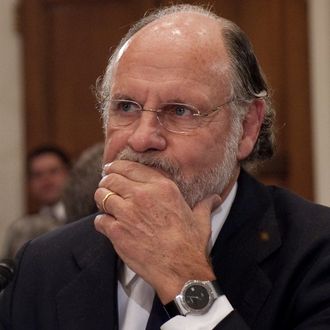 Corzine.
Photo: Saul Loeb/AFP/Getty Images
Ex-senator and former MF Global CEO Jon Corzine appeared before a congressional panel again today and failed to answer for the bankrupt firm's missing customer funds, continuing instead to stress that he has no idea where the money could be. "I never gave any instructions to misuse customer money, never intended to give any instructions or authority to misuse customer funds, and I find it very hard to understand how any one could misconstrue what I've said as a way to misuse customer money," said Corzine, clarifying his comments from last week. To say more, Corzine claimed, "I'd be completely out on a limb speculating. I literally would have to go back through thousands of pages." But Terrence Duffy, the chief executive of the CME Group, which is responsible for regulating MF Global, leveled a huge accusation, claiming that Corzine did in fact know about the missing funds. 
Duffy told the panel this afternoon that he learned about the impropriety only after his testimony last week. "Somebody went in and violated the rules of the CME and the rules of the government," Duffy said, but did not provide more detail about Corzine's role in the $175 million loan transfer to MF Global's European affiliates, which seems to have illegally included some client funds. Needless to say, if that's true, Corzine could be in huge trouble.
MF Global's CFO also insisted he did not know where the money is, to which Senator Debbie Stabenow snapped, "This isn't the Dark Ages. MF Global didn't keep their books with feather quills and dusty ledgers." That would only just begin to explain this $1.2 billion mistake.