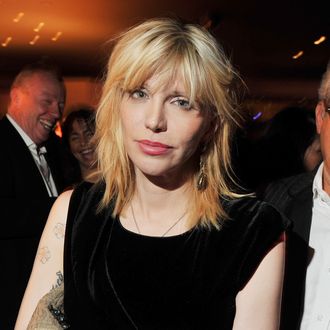 Over it.
Photo: Stephen Lovekin/2011 Getty Images
Courtney Love might have to vacate her $27,000-a-month West Village townhouse, if her landlord gets her way. Love has been, according to the property owner, a less-than-model tenant, reports "Page Six". There was the "minor fire" this spring. There is the $50,000 in unpaid rent that Love supposedly owes. And then there is her taste.
The lease stipulates that nothing can be done to the interiors, which were decorated by the previous tenant, interior designer Steven Gambrel, and featured hand-painted walls. Courtney felt inspired, though, and covered those walls in "damask wallpaper and ice-blue paint," which her landlord says will cost $100,000 to fix. That all actually sounds far more moderate than what we might have expected from a Love landlord dispute, honestly.  They'll go to court on December 21 to hash it out.