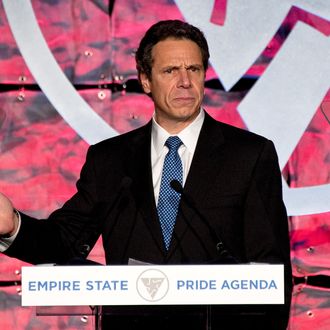 Cuomo left the supermarket feeling cheerier than ever.
Photo: D Dipasupil/Getty Images
Andrew Cuomo has been stopping by some local stores this week up in the Adirondacks, where he's spending a few days with his family for the holidays. For the most part, everyone has been delighted to meet the popular governor in person. But one guy, a supermarket cashier who was recently arrested at the protests in Zuccotti Park, really gave Cuomo a piece of his mind. Almost.
"When we rang him up, I was trying to steel myself to express disapproval of his austerity policies," he said. "I was considering telling him that I was one of the Occupy protestors heckling him outside the Skylight Soho, or that I didn't think a tax deal endorsed by the Business Council of New York State, like his was, could be 'progressive' by any stretch of the imagination. But ultimately I lost my nerve and just helped bag his groceries."
That one is going to sting for a while.