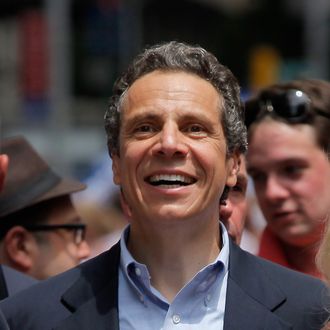 Photo: Jemal Countess/2011 Getty Images
What's a victory lap without some speculation about the next race? New York Governor Andrew Cuomo gets the Gentleman's Quarterly Q&A treatment in the magazine's January issue and, besides a startling "Conan the Barbarian" Photoshop job, it's pretty boilerplate stuff about the man's great 2011: marriage equality, middle-class tax breaks, working across the aisle, and all that. But then there's the presidential speculation for 2016, and an attempt to stoke Cuomo's semi-rivalry with New Jersey Governor Chris Christie, a premature media narrative that we could very well be hearing about for the next four years:
So Cuomo versus Christie in '16? 


Andrew Cuomo: [He ignores that.] I have a good working relationship with him. I want a good working relationship with him. We do a lot together. 

GQ: So you work with him, talk to him—


Andrew Cuomo: For me to do my job well, I have to. I'm sure we'll have our differences, but the trick is to have a good enough relationship that you can handle the difference, right?
The GQ interviewer, Lisa DePaulo, also calls Christie "the big guy across the river," segueing perfectly into a discussion of weight. DePaulo interjects:
The governor's brother, ABC newsman Chris Cuomo, will later tell me that Andrew berated him about the media's obsession with Christie's weight. "SO WHAT?" Andrew thundered. "Why don't you tell your friends in the New York media to get the hell out of New York and go into the rest of the country, go upstate, move around where everybody's not spending sixteen hours a day in the gym, and take a look at what people look like — people with real lives and jobs."
Cuomo is sort of slamming East Coast elitism, but it's also a backhanded defense of Christie — basically, Cuomo's calling everyone fat. Food Network girlfriends are hard to come by.