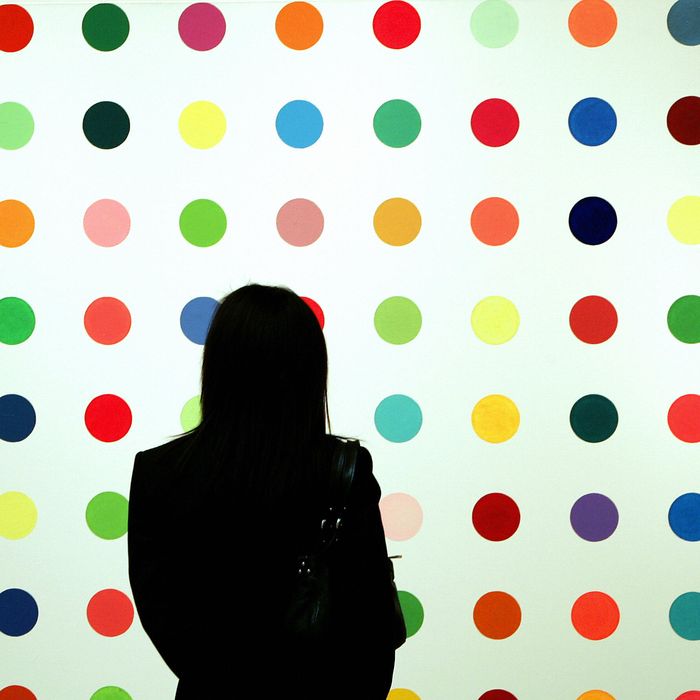 Photo: TIMOTHY A. CLARY/2007 AFP
Damien Hirst is good at making money. Perhaps never was that more evident than in 2008, right before the financial markets crashed, when he had a perfectly timed, large-scale exhibition. At a September sale that year at Sotheby's London, despite the cratering economy, works from that show brought in $200.7 million. Hirst helped give the bidding a certain urgency when he said that he was done making dead-animal installations and certain kinds of paintings, including his butterflies and rows of bright spots.  The supply of spot paintings, which have a certain assembly-line quality to them,  suddenly became finite.
Except it wasn't. Not only did Hirst start making spot paintings again, but he's staging a huge, dramatic exhibition of them, reports the Times.  All eleven of Larry Gasogian's galleries worldwide, including the three here in New York, are being given over entirely to Hirst's spot pictures. It's a spread-out, museum-scale exhibition, but, fittingly for Hirst, one in which a third are for sale. (Spot paintings have gone for anywhere between $100,000 and $1.8 million, previously.) The exhibition, which will be followed by a regular old museum retrospective at the Tate, also prompted more than a little eye-rolling in the art world.
Even the idea is anathema to some. Richard Dorment, the art critic for The Daily Telegraph in London, called the spot paintings themselves "fantastically boring," and when asked about the premise of the Gagosian shows, he replied: "The accumulation of scores of them in one place like the Tate's Turbine Hall could make a visual impact, but I can't see the point of filling all of Gagosian's galleries around the world. What purpose will it serve?"
Presumably, Mr. Dorment is NOT good at making money.
Related: The Gist: Damien Hirst's 'Beautiful Inside My Head Forever' Sale