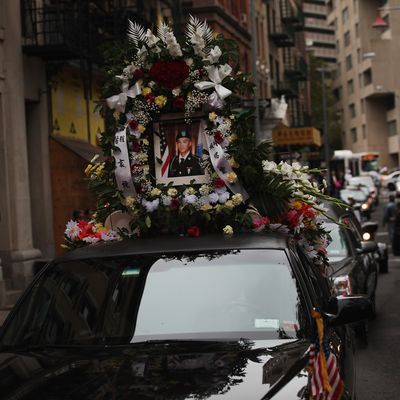 Photo: Spencer Platt/2011 Getty Images
Private Danny Chen's parents got the news first: An Army official called from Afghanistan on Tuesday morning to inform them that eight soldiers were going to be charged in connection with their son's death. Chen, a 19-year-old from the Lower East Side, died on Oct. 3rd of what the Army has deemed an "apparent self-inflicted gunshot wound" in a guard tower in Afghanistan.
 
During basic training, Chen had gotten used to being teased for being the only Chinese guy in the platoon. But it was a different matter entirely when it came to dealing with his bosses.
"Chen was outgoing when he was around me and my husband…but when he was at work, he was very shy," said an Army wife who knew him well. "He was very shy of the NCOs [non-commissioned officers] and the officers. He was nervous around them. He didn't know how to present himself."
 
His Army friends thought maybe it was because he had strict parents, and they tried to help. "You don't have to be all tense and uptight," they would tell him. "There's nothing to be nervous about."
Not long before Chen died, another Army wife whose husband was in the same platoon heard that a group of NCOs was picking on Chen, yelling at him and threatening him. She knew enough about Army culture to know how serious a problem this could be. It's one thing to be harassed by your peers; it's another thing altogether to be singled out and targeted by your superiors.
"If he's feeling he's by himself, you need to be there for him," she told her husband. "Keep an eye out."
On Wednesday, the Army charged eight soldiers from Chen's company with a slew of crimes, including manslaughter, negligent homicide, and assault. One of them, 1st Lt. Daniel J. Schwartz, is an officer. Five are NCOs: Staff Sgt. Blaine G. Dugas, Staff Sgt. Andrew J. Van Bockel, Sgt. Adam M. Holcomb, Sgt. Jeffrey T. Hurst, and Sgt. Travis F. Carden. Spc. Thomas P. Curtis and Spc. Ryan J. Offutt were also charged.
 
The Army has revealed few details about the events surrounding Chen's death, but officials have told the Chen family that his superiors subjected him to a number of abuses: They taunted him with ethnic slurs; dragged him from his bed and across the floor, leaving marks on his back; and forced him to crawl across the ground while being pelted with rocks.
 
The charges against his superiors come six days after OCA-NY — the local group formerly known as the Organization of Chinese Americans — organized about 500 people to march from the Army recruiting office on Chambers Street to Columbus Park, where the crowd chanted, "WHAT HAPPENED TO DANNY CHEN?"

At the event, Chen's younger cousin Banny Chen, a first-year student at Hunter College, read aloud an excerpt from a letter Danny sent home from basic taining:

"Since I'm the only Chinese person here, everyone knows me as Chen. They ask if I'm from China like a few times day. They also call out my name (CHEN) in a goat like voice sometimes for no reason. No idea how it started but now it's just best to ignore it. I still respond though to amuse them. People crack jokes about Chinese people all the time, I'm running out of jokes to come back at them."
 
The Army has not yet ruled whether Chen's death was a homicide or a suicide, though the array of charges just announced suggest the latter. The official report on Chen's death, from the Army's Criminal Investigation Division, will likely not be completed until February. Ahead of that ruling, the Chen family has a meeting set up with Army officials on Jan. 4 to discuss his autopsy results. OCA-NY, on the family's behalf, has retained Dr. Henry Lee, the forensic scientist who worked on O.J. Simpson case, to review the findings.