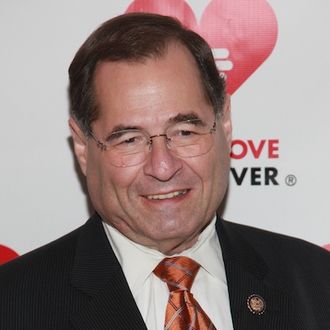 Democrat Jerrold Nadler of New York's 8th Congressional District has called on Attorney General Eric Holder and the U.S. Department of Justice to investigate allegations of police misconduct during Occupy Wall Street protests in New York City. In a letter to Holder, Nadler cited "troubling reports" of possible mistreatment toward both demonstrators and journalists.
The AP reports:
[Nadler] says there were reports of 'possible unlawful surveillance'of protesters' constitutionally protected activities and excessive use of force by New York Police Department officers. He says he was 'especially troubled' the NYPD 'aggressively blocked journalists' from reporting the Nov. 15 eviction of protesters from a Manhattan park they were occupying.
Ah, those pesky journalists and their questions. In the NYPD's defense, spokesman Paul Browne said that the department "accommodated" lawful protests and made arrests only after observing unlawful conduct, like, for example, threatening to burn down the city and launch Molotov cocktails at Macy's. The Department of Justice said it will review Nadler's letter.