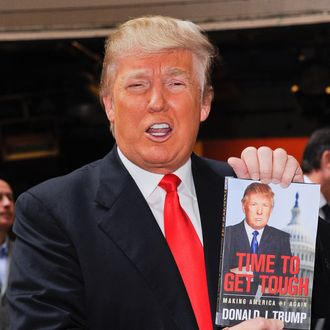 Donald Trump makes John Boehner look like Tilda Swinton.
Photo: Ray Tamarra/Getty Images
In what seems like a plot dreamed up by the DNC to turn the GOP primary campaign into as much of a clownish spectacle as possible, national laughingstock Donald Trump and conservative website Newsmax have announced plans to moderate a debate on December 27 in Des Moines, Iowa, to air on ION, that broadcast network* you watched one time for two minutes by accident.
This actually seems like a pickle for the serious candidates in the GOP field. Do you attend and risk tainting your gravitas among moderates by answering insane questions from a birther reality TV star? Or do you beg off but risk alienating the GOP base, which reads Newsmax and for some reason doesn't realize how much of a joke Trump has become?
* This sentence has been updated to reflect that ION is a broadcast network, not a cable network.