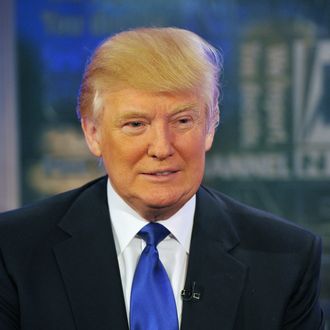 Photo: Slaven Vlasic/Getty Images
Donal Trump has changed his New York voter registration from Republican to unaffiliated. So yes, maybe, just possibly, he'll run for president as an independent.
According to Michael Cohen, special counsel to Trump, the Donald will enter the race only if the Republicans fail to nominate a candidate who Trump feels can beat Obama. Obviously, this has nothing to do with Trump's proposed Republican debate being roundly ignored.
As if to underscore the seriousness of Trump's potential campaign, Cohen told NBC that Trump will consider his options after the finale of The Apprentice, in May.