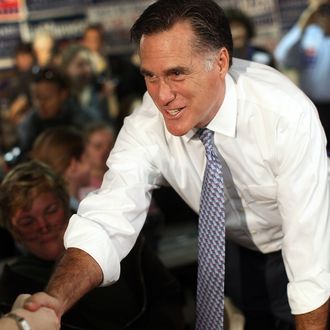 Photo: Win McNamee/2011 Getty Images
For most of his campaign, Mitt Romney has downplayed his Mormonism, worried that it would turn off voters. Forty-one percent of evangelical voters in a recent poll said they would not vote for a Mormon, and there are plenty of evangelicals in Iowa and New Hampshire. For evidence that Mormonism doesn't go over so well with that group, look no further than Newt Gingrich's former Iowa political director, who resigned after claiming that evangelicals would "expose the cult of Mormon." 
But now, reports the Times, confronted with Newt Gingrich's rise in the polls, Romney is speaking more publicly about the role religion has played in his life, in the hopes that his commitment to his faith (even if that faith is unusual to some) will be appealing.
Four years ago, Mr. Romney rarely talked of his Mormon faith during his presidential campaign, but in recent days Mr. Romney has invoked his time as a missionary and church pastor when asked to explain how he, a man whose net worth is estimated at $200 million, can relate to the everyday concerns of average Americans.

"I was able to serve my church overseas, and to meet people there that had very difficult circumstances in their life," Mr. Romney said. "I also spent time in this country, serving as a pastor in my church and, again, having the occasion to work with people that were really

 

struggling."
The Romney campaign, though, has denied that this is any sort of calculated strategy on their part. "I think maybe because it's Christmastime, he's sort of more reflective?" a staffer told the Times — a suggestion that fits perfectly into the narrative the campaign is telling about how religion influences Romney in word and deed.