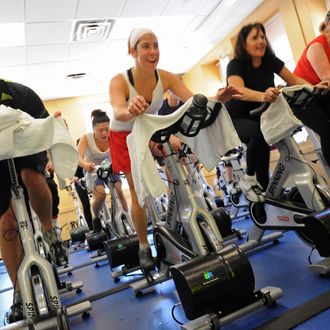 Photo: Stan Honda/AFP/Getty Images
Forming bonds with business associates over a few drinks is a time-honored tradition, but for a certain set, says the Times, it's being replaced by something more calorie-conscious: "sweatworking." The new thing is to network with clients by taking them to a fancy exercise class, some place like Soulcycle or Flywheel. The client, the theory goes, is grateful for the opportunity to work out instead of killing his or her liver a little more — and the person wielding the company credit card gets credit for doing something a little more memorable. "When you're dripping sweat and the trainer's yelling, 'just five more situps,' it breaks a barrier," one reality TV developer told the paper. "It shows a different side of you; that you're willing to do anything." Anything?!? 
Spinning is the top choice, because it's easier to try a little less on a bike if you're not quite in shape enough to keep up with the class, and so there's less potential for humiliation. But there are plenty of other opportunities for embarrassment, some of which the Times addresses and some of which it ignores.
For instance, what if your sweat smells pretty bad? Or worse, what if your client's sweat smells rancid and you make a face? What if your client has a heart attack and his family sues you later?  Or how about if you have to change in front of your client — awkward, right? Not always!
"I've had some of my best conversations while changing," said Loren Bassett, 41, a real estate agent with Corcoran. Ms. Bassett credits the intimacy of yoga and the locker room with winning her at least six clients.