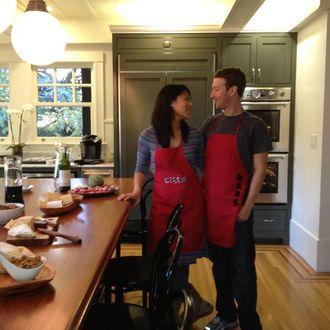 Zuckerberg in the kitchen.
A fairly simple hack has unveiled the intimate home life of Facebook founder Mark Zuckerberg, and if the pictures are to be believed, he spends his time eating, drinking, and playing with his puppy. The Internet is laughing, not at the content — which is pretty cute — but at how easy it was to access Zuckerberg's photos (and therefore your ex's, too). If one locates the person they hope to stalk and opts to report one of their photos as pornography or nudity, Facebook then gives the user the option to select other inappropriate images from that same user, including their pics marked private.
Facebook recently agreed to a settlement with the FTC over user security, submitting to twenty years of privacy audits and agreeing to pay $16,000 for each violation. In a blog post explaining the agreement, Zuckerberg wrote, "With each new tool, we've added new privacy controls to ensure that you continue to have complete control over who sees everything you share. Because of these tools and controls, most people share many more things today than they did a few years ago." He also admitted to making "a bunch of mistakes." What's one more?
On a lighter note, those homemade (?) chicken fingers do look pretty good.