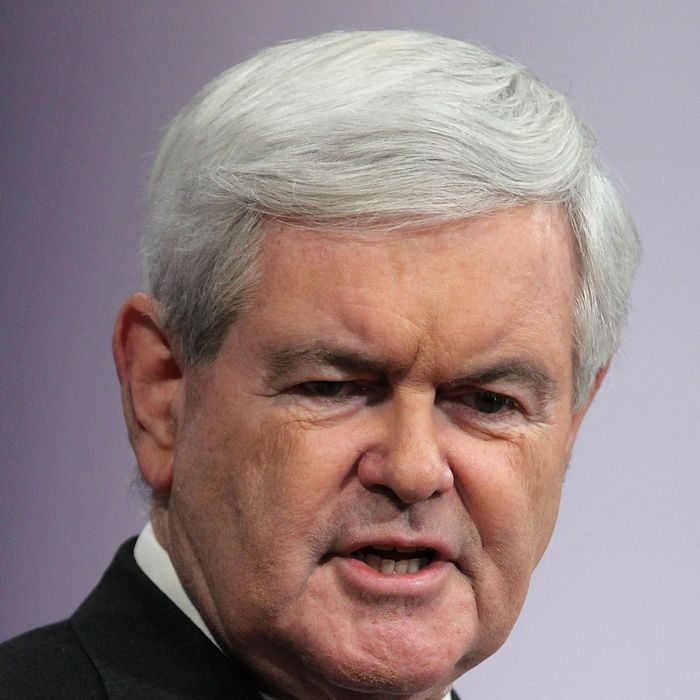 Photo: Alex Wong/Getty Images
Way back in 1997, when Newt Gingrich was Speaker of the House and married to his second wife, the FBI considered launching a sting operation over an alleged bribe.
The case was originally brought to the FBI and federal prosecutors by a convicted arms dealer, perfectly named Sarkis Soghanalian, who claimed that Marianne Gingrich (Newt's then-wife) said in 1995 during a meeting in Paris that she could provide legislative favors through her husband.
Soghanalian, who was convicted — and served two years — for conspiring to sell U.S. helicopters to Iraq, took Marianne up on her offer. He told her that he wanted Newt's help to get the Iraqi arms embargo lifted, so he could collect an outstanding $80 million debt from Saddam Hussein. (All this, by the way, is according to a document the FBI filed in order to obtain wiretap authorization.)



Marianne later assured Soghanalian that she could get the embargo lifted — for the right price. Marianne, though, was not present during these negotiations: She was inexplicably represented by a Miami car salesman named Morty Bennett. The conversations were recorded by Soghanalian, and the tapes were presented to the FBI. Marianne wanted, according to the document, "10 million dollars to get the job done, five million of which would go directly to Marianne Gingrich."
"She also told [Soghanalian], 'It's time for me to make money using my husband, and after we get started doing this, it will be easy," the document says.
Bennett never came through, though he did make contact with Soghanalian again in 1997. More conversations were bugged. And in June 1997, Soghanalian was planning to meet Newt and Marianne at a fund-raiser in Miami. Agents were preparing to bug the meeting, but the investigation was closed. It was deemed that there was no evidence against Newt to establish "predication" — that he was engaging in or about to engage in criminal activity.