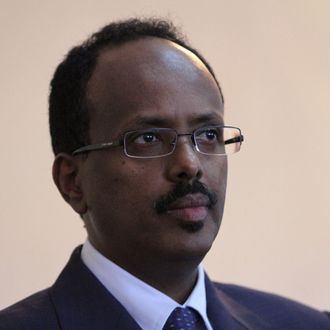 Mohamed Abdullahi Mohamed, a State Transportation worker, has one of those bureaucratic jobs that require a whole long clause to explain them — "he makes sure the department's contracts and contractors comply with nondiscrimination and affirmative action requirements" — and, even then, you don't quite understand what it is he actually does. For eight months, though, before he decided to return to Buffalo, as we blogged about in August, his job title was somewhat grabbier. He was the prime minister of Somalia. How the hell did that happen, exactly? The Times goes a little deeper into the story.
Mr. Mohamed, who has lived in the United States since 1985, said he had no plan to join the Somali government when friends helped him arrange a meeting with the country's president, Sheik Sharif Sheik Ahmed, in September 2010 during a meeting of the United Nations General Assembly in New York. Mr. Mohamed said he talked to the president about how factions in government might cooperate, drawing on his own experience working with difficult contractors in Erie County. At the time, the president had just dismissed his previous prime minister.

As soon as Mr. Mohamed returned to Buffalo, he said, his friends called to say the president liked his ideas — and would he consider submitting his résumé to be prime minister?

"My wife was not supportive of the idea," he said. "But I told her, if I don't do it, who will? I said, violence comes from conflicts, and I've learned how to resolve conflicts. That's exactly what I do here."
Just so we're clear here: The president of Somalia was convinced that New York State government is such a morass of confrontational assholes that employment here as a mid-level manager makes governing a war-ravaged nation look like a piece of cake. Also, governmental corruption supposedly increased under Mohamed's watch, which, again, sounds like he really took the lessons he'd learned here in New York and applied them elsewhere.